If your skin is scarred, wrinkled, sagging or pigmented, RF Needling may be the perfect treatment for you. RF Needling is a revolutionary treatment for skin tightening and rejuvenation, utilising a combination of radio frequency and percutaneous needling to induce collagen production and tighten elastin fibres.
A common result of skin ageing is that it presents multiple problems, from the superficial skin layers down to in depth skin trauma, from sagging to pigmentation. We use RF Needling to stimulate the skin's natural healing process and generate new skin cells. As a result, the skin's texture is improved, skin layers are repaired in-depth and tissues are lifted and strengthened.

Skin needling is a natural treatment carried out to improve skin texture, smooth wrinkles and fine lines and soften scars.
Face needling works by using a surgical grade instrument with micro needles to create microscopic "punctures" in the top layer of your skin. This tiny amount of medical skin needling actually promotes the natural reproduction of elastin and collagen which in turn results in your skin feel markedly tighter and smoother.
For most clients, we recommend a series of at least three dermal needling sessions to achieve optimal results and rejuvenation. Each skin needling treatment should be carried out approximately five to six weeks apart.
Skin needling for acne scars and other scarring can be carried out safely here at our clinic without the risk of pigmentation which can occur with laser treatments. Where we are carrying out skin needling to treat pigmentation and acne scarring, we would recommend at leave five to six treatments, performed five to six weeks apart to see optimal results.
A fantastic way to promote further regeneration of collagen in the treated areas is to have an LED treatment post skin needling. The LED light therapy will really intensify the results to your skin.
After skin needling treatment, we recommend that you do not use glycolic acid, retinol and any skin care products with "active" ingredients, do not rub or touch your face if possible, and avoid makeup and exposure to the sun for at least 48 hours.

Side effects from skin needling treatments are minimal, and include mild swelling and bruising.
You should be able to return to work and normal daily activities directly from your appointment. Most of our clients find that any redness resulting from the treatment is easily covered with make-up and generally fades within 12 to 24 hours.
Contact us to make an appointment for skin needling and consider having your treatment in conjunction with LED light therapy for optimal results.
Fractional RF is our latest technology offering a variety of flexible treatment protocols to achieve superior results.
Fractional RF applies direct energy into the layers of the skin. This micro- needle treatment will stimulate the production of collagen and elastin.
The Fractional RF treatment is versatile and can be tailored to effectively treat many skin concerns on the face and body.
Fractional RF is used to tighten and firm facial contours which become lax and sag as you age. Skin becomes firmer around the jawline, chin and cheeks while lines around the eyes, mouth and forehead are reduced. The result is a more youthful appearance with greater skin elasticity and lift to the face.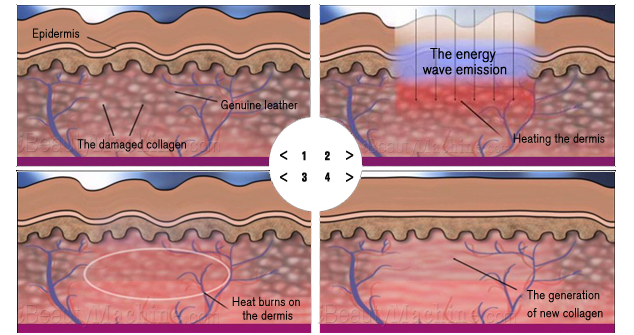 Acne Scarring and Stretch Marks
The advanced combination of Radio Frequency and Micro-Needle technology effectively treats acne scarring and stretch marks. As new collagen is stimulated, the skin becomes healthier, firmer and refined, resulting in a more even skin texture and visible reduction of scars.
Rosacea & Flushing
Radio Frequency is used to strengthen the fine capillaries just under the surface of the skin. This dramatically reduces the appearance of general redness and rosacea.
Rejuvenation
Fractional RF creates micro-channels in the skin. This controlled thermal damage causes the skin to produce collagen to heal and repair. In turn, renewed collagen plumps and strengthens the skin, reducing the appearance of lines and wrinkles as skin texture and tone are improved.
Sebaceous Acne
The application of RF energy causes sebaceous glands to shrink and therefore produce less oil. Although some lasers can be used in the same way, we find that Fractional RF is less painful and readily tolerated. When the Radio Frequency energy is applied in combination with micro-needles we are also able to reduce the appearance of scarring and reduce the red inflammation. This makes a noticeable difference to the acne sufferer.
Open Pores
Fractional RF visibly treats open pores, by stimulating the skin's own collagen production. Over 2-5 treatments pore size is significantly improved.
FAQ
What areas can be treated?
Fractional RF is suitable for use on the face, neck décolletage and any body area.
Does it hurt?
Topical numbing cream is applied to make the treatment very tolerable.
How long is recovery after treatment?
Fractional RF has little to no downtime. Slight redness and warmth to the skin may be experienced after your treatment but normal activities can be resumed immediately.
How many treatments are required?
Depending on the condition we are treating and your individual skin health, 3-6 treatments are recommended.
How often is the treatment?
Depending on the condition we are treating and your individual skin health we would treat at 4 week intervals